Lets Get Social
We are SO excited to welcome friends old and new as we now begin the roll-out of Socially Homes, our highly anticipated learning and networking programs.
Pack your bags for a road-trip guys!
We're off on tour of BEST practice social innovation:
Enterprise, Impact, Housing, Support, Campaigning, Investment, Development, Policy, Practice, Funding, Strategy, Solutions & More!
Over the next few years, as trusted Founding Members help us trial our pilot programs, we'll visit a diverse collective of leading impact investment initiatives, giving unique access to some of the most progressive social impact solutions operating in Britain - and across the rest of the world.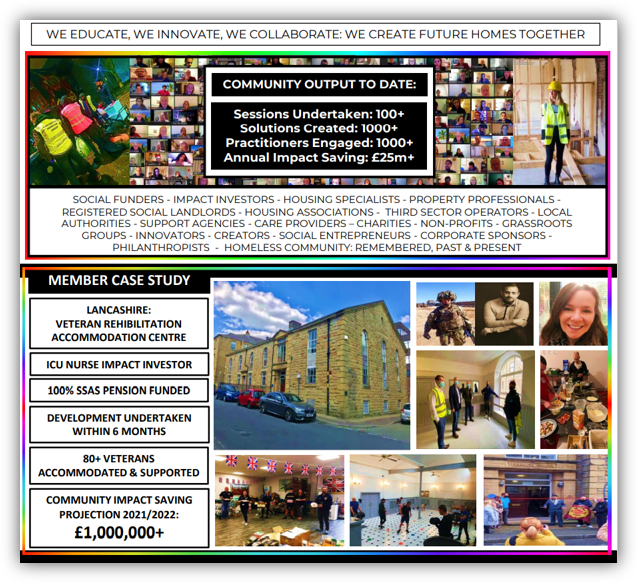 Members will be immersed in a new topic as they join an intensive, interactive learning and networking experience EVERY month, with virtual knowledge exchange sessions providing real-time specialist guidance and on-going exposure to new professionals, their techniques, tips and tricks.
You'll interact with the very best operators in our field, meeting everybody involved in the process, from joining impact investors at local development sites, to visiting government officials in Whitehall.
You'll get a rare insight from local authority staff and housing association bosses
You'll observe the very best specialist support providers in action
You'll be hosted by charitable organisations making institutionalized change
You'll join grass root groups as they deliver crisis care services on the ground
And, of course, you'll meet MANY of the people we collectively work to serve along the way
Creating Social Solutions of the Future
Person Centred Approaches to Homelessness Eradication: Outcomes, Impact, Sustainability & Growth
With Northumberland Three Tier Solution Showcase - 'Street to Home and Beyond' - inc. Entire Project Contributor Round-table, Accommodation Portfolio Tour, Resident Farm Visit and Live Q&A Session
Communities Creating Change
The Journey of Housing First Part 1: Collaboration, Innovation & Mass Action
With Manchester Street Outreach 'Walk & Talk'
VIP Hosts, Speakers & Special Guests
Followed by Private Dining & Storytelling at iconic Stock Exchange Hotel, where Amy was recruited to assist for a number of months during 2015, as 60+ rough sleepers made global headlines when they squatted the derelict building - and were allowed to stay for the wintertime.
The Socially Secret Supper Club
'Welcome to My Socially Home'
Fundraising for 'Socially Ho, Ho, Homes' Christmas Giving Pop Up & Corporate Social Responsibility Showcase
EXCLUSIVE Founder's House/Rainbow HQ Festive Philanthropy Dinner, Champagne Reception, Private Chef, VIP Speakers, Elite Roundtable Strategy Session
VERY Special Guests & Dancing til Dark
Plus! Optional Volunteering Experience Opportunities with Member Charitable Partners
1-1 Consultation Sessions with Amy are included for All Guests
Calendar Ahead
JANUARY 2023
Impact Investment Global Gathering
Best Practice Showcase: Strategies, Solutions, Leaders & Creators
Remote & Digital UK Property Impact Investment (from Malaysia)
Maximising a Digital Media Reach of Millions (from Los Angeles)
Compassionate Street Policing (from Florida)
Social Enterprise Funding Models (from Africa)
Housing First (from New York)
Community Built Recovery Village (from Las Vegas)
All Dates: TBC
FEBRUARY 2023
National Approaches to Tackling Global Homelessness Crisis
Aligning Cities, Cultures, People & Practices to Create Unified Action for Ethical Social Impact
Visiting Friends of Socially Homes in London
Including our Personal Introduction to Crisis HQ, with Crisis CEO Address & Housing Heads Session, Live Tour of Crisis Skylight Centre, Parliamentary Visit with VIP DLUHC/CHI Strategy Session, Member Private Dining & Knowledge Exchange Evening
All Dates: TBC
March 2023
In Loving Memory of John Chadwick and Kelly Walsh
Becoming a Force for Good
Compassionate Campaigning, Practical Pilot Research & Positive Policy Change
Remembering John and Kelly in Kent with Dee Bonett Amy & Friends
Attend our Rainbow 'Pet Soup Kitchen' Pop Up & Street Well-being Clinic, Pilot Project Accommodation Tour & Social Strategy Session with LA Reps & Local Delivery Partners
All Dates: TBC
APRIL 2023
Media, Marketing & Movement Building:
The Journey of Housing First
Part 2: 'Social Media for Social Good'
Becoming a 'Social' Influencer and the Secret Art of Digital Promotion for Ultimate Societal Impact
Inc PR, Storytelling, Media Campaigns, Online Fundraising, Expert Etiquette, Positive Profile Raising, Audience Leverage
Mastermind Classes with Digital Media & Amplification Experts, inc Reps from Amnesty International & Wikipedia, the Social Change Agency & Specialist Community Members
Please join our Global Gatherings Network to access events.
All Dates: TBC
The ONLY way to access this HIGHLY subsidised program is to join the community as a Founding Member to be part of our pilot trials!
Ready for a Happy New Year. Let's Get Social
NOW IS THE TIME! PLEASE JOIN HERE.
Please note, all digital sessions and site visits are INCLUDED in the monthly membership fee - Dinners, drinks and externally hosted evening events etc are optional to attend and charged separately.
A LIMITED number of tickets for some of our events will be available to non-members on a first come, first served basis, as we conduct a traffic audit across various hosting platforms, so please let us know ASAP if you would like to reserve a place at ANY session listed above before this goes live.
If you have any questions please contact Samuel Evans or you can send a message to The Peoples Hub and they will link you up with us. We are so excited for the year ahead to share our learning journey and solutions, and I can't wait to get on the road and get to know the new Dream Team! - Amy, and #SociallySorted Sam xX